NotePAC
---
Compact, rugged portable system with attachable displays and an optional battery. Configurable with the latest Intel® Core™ processor.
Unique Form Factor
The NotePAC keeps the powerful performance and integrity of our portable computers while adopting a unique and different design. It utilizes a more notebook-style form factor for a very compact yet versatile design.
Compact Triple Displays
Unlike some of our other triple display units like the MegaPAC L3, the NotePAC manages to remain compact. Because of its design, it sacrifices a bit of power to maintain its compact nature.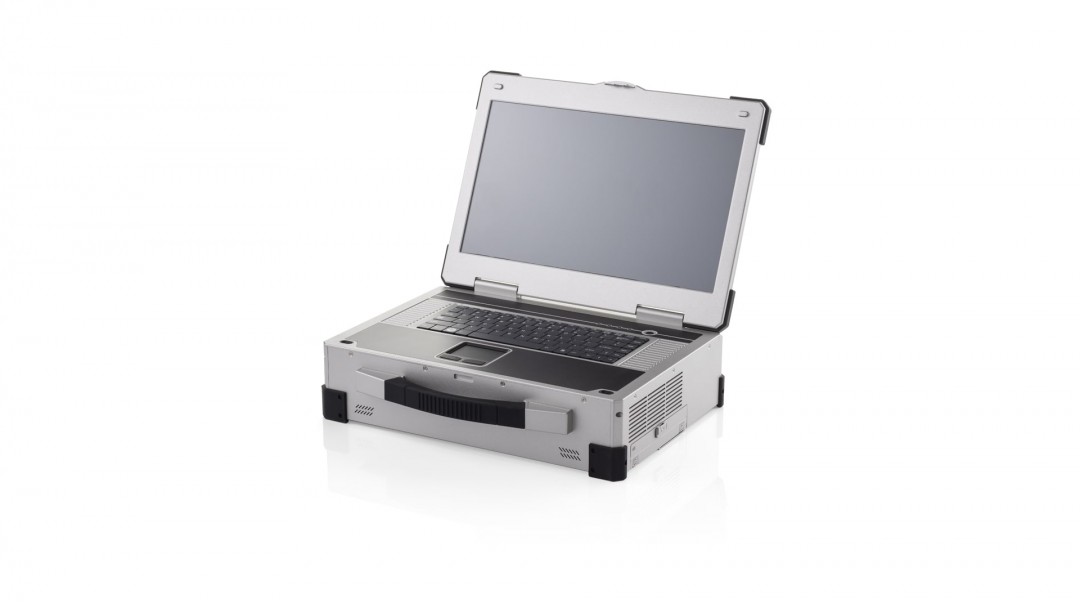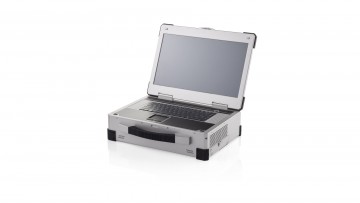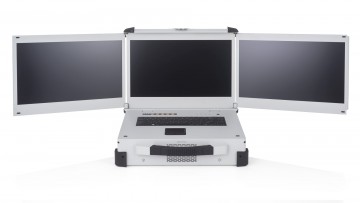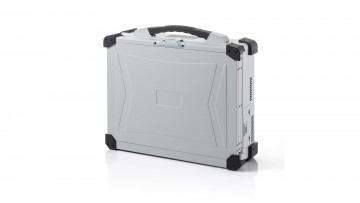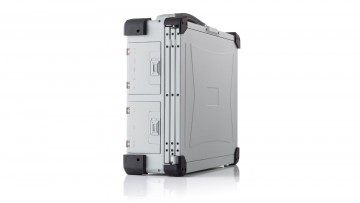 Technische Daten
Produkte
NotePAC
Display
17.3" FHD 1920x1080,
Optional: 3x 17.3" FHD 1920x1080
CPU
Intel® Core™ i7-8700
Memory
32GB DDR4 RAM,
Optional: 64GB DDR4 RAM
Graphics Card
NVIDIA Quadro P2000,
Optional: NVIDIA Quadro P4000
OS Drive
512GB OS Drive
Storage
1TB Data Drive
Optional: 6TB Data Drive
Ports
2x Gb LAN,
Optional: 6x LAN,
Video capture inputs,
3x HDMI external clone,
CAC reader
Power Supply
220W, Battery Option Available
Dimensions
Height: 4.5"
Width: 16.75"
Depth: 12"
Weight
~24lbs
Keyboard & Mouse
Backlit keyboard, available in a variety of languages
Transit Case
Includes Padded Rolling Transit Case
Optional: Hardened Case Available
Quality
ISO 9001
Regulation
CE, FCC, RoHS, CCC
Warranty
1 Year Parts And Labor
Konfigurationsoptionen
Die technischen Spezifikationen sind nur ein Beispiel. Diese können speziell auf ihre Anforderungen angepasst werden. Wenn sie Fragen haben, können sie gerne unsere Verkaufsabteilung kontaktieren.
Contact Sales
Vergleichen Sie ähnliche Systeme
Auf den ersten Blick, kann es schwierig sein, die Unterschiede zwischen unseren Systemen zu erkennen. Klicken sie einfach auf diese Schaltfläche, um die Unterschiede zwischen anderen ähnlichen Systemen zu sehen.
View Comparable Systems
Produkte
NotePAC
MegaPAC L3
NotePAC Pro
Display
17.3" FHD 1920x1080,
Optional: 3x 17.3" FHD 1920x1080
Triple 23.8" UHD 3840x2160 - 900 nits,
Triple 23.8" Full HD 1920x1080 - 1000 nits,
Triple 23.8" WUXGA 1920x1200 - 1000 nits
17.3" FHD 1920x1080,
Optional: 3x 17.3" FHD 1920x1080
CPU
Intel® Core™ i7-8700
Latest Single/Dual Intel® Xeon, Intel® Core, or AMD Ryzen™ 7
Intel® Xeon® D-2166NT
Memory
32GB DDR4 RAM,
Optional: 64GB DDR4 RAM
Up to 1TB DDR4 RAM
32GB DDR4 RAM
Graphics Card
NVIDIA Quadro P2000,
Optional: NVIDIA Quadro P4000
Integrated HD graphic controller
or application-specific graphic controller
NVIDIA Quadro P4000
OS Drive
512GB OS Drive
N/A
512GB OS Drive
Storage
1TB Data Drive
Optional: 6TB Data Drive
Up to 150TB (Removable Option Available)
1TB Data Drive
Ports
2x Gb LAN,
Optional: 6x LAN,
Video capture inputs,
3x HDMI external clone,
CAC reader
N/A
6x LAN
Power Supply
220W, Battery Option Available
850W 100/240VAC, 50/60Hz auto-switching 80 PLUS GOLD rated power supply
220W, Battery Option Available
Dimensions
Height: 4.5"
Width: 16.75"
Depth: 12"
Height: 16.39",
Width: 22.96",
Depth: 11.98"
Height: 4.25"
Width: 16.75"
Depth: 12"
Weight
~24lbs
SKD: 43.85 lbs,
System: 52.82 lbs
~20lbs