Rugged Portable Systems
"The most powerful portables on the Planet."
ACME Portable is the leading producer of high-performance, rugged portable workstations. We provide the needs of the US Military and Prime Contractors with mil-std ruggedized portable computing and display solutions. With headquarters in Los Angeles, California and branches in Europe and Asia, our mission is to design and manufacture high-performance, reliable, and rugged portable computer platforms.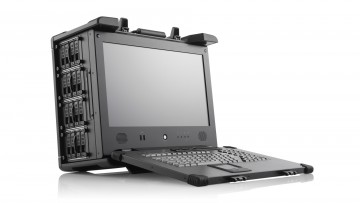 The MilPAC RHD (short for removable hard drives) is a portable system specifically designed for portability with high storage capabilities.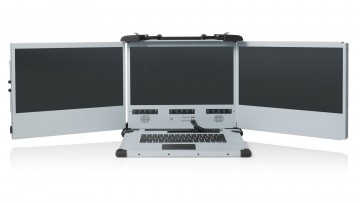 The MilPAC III is a transportable, deployable workhorse for C4ISR / C5ISR, GIS and Geospacial applications. Rugged aluminum and composite construction provides survivability in deployed environments 24/7 and the ruggedness to withstand transport handling on wheeled and tracked land vehicles, fixed and rotary winged air vehicles.
Product
MilPAC RHD
MilPAC III
CPU
Latest Single/Dual Intel® Xeon, Intel® Core, or AMD Ryzen™ 7
Latest Single/Dual Intel® Xeon, Intel® Core, or AMD Ryzen™ 7
Dimensions
Height: 14.5"
Width: 18"
Depth: 8.25"
Folded:
Height: 14.5"
Width: 17.125"
Depth: 11.75"

Deployed:
Height: 14.5"
Width: 43.0"
Depth: 11.75"
Display
17.3" Full HD 1920 x 1080
Triple 17.3" Full HD 1920 x 1080
Expansion Slots
Up to 6
Up to 7
Memory
Up to 1TB DDR4 RAM
Up to 1TB DDR4 RAM
Storage
4x4 Removable Storage Drives, up to 80 TB
3x Removable Storage Drives, up to 36 TB
Weight
~42 lbs
~65 lbs
Product
CPU
Dimensions
Display
Expansion Slots
Memory
Storage
Weight