Rugged Displays
Designed to meet MIL-STD 810G, 901D, and 461G, these display solutions are for use in military, aerospace, and government environments. All rugged displays can be integrated with fully sealed MIL-SPEC connectors and heavy-duty filters for the harshest environments. Dual AC and DC power supply with redundant fail-over allows for uninterrupted operations both in vehicles and command tents.
Our rugged displays are ideal for practicing and simulating real-life military experiences. They are designed to operate in wide temperature ranges, extending its compatibility to more military applications.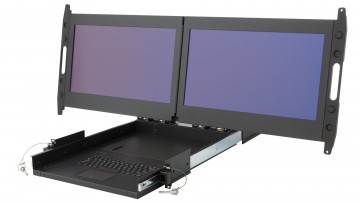 The RMDDU is a rugged 2U rack-mount drawer with dual-screen LCD monitors The displays fold together, rotate, and slide in for storage.
Product
RMDDU 17
RMDDU 19
RMDDU 17a
RMDDU 23
Dimensions
Height: 2U (3.46")
Width: 17.76"
Depth: 25.89"

Rack Depth: 24"
Height: 2U (3.46")
Width: 17.76"
Depth: 25.89"
Height: 2U (3.46")
Width: 17.76"
Depth: 25.89"
Height: 2U (3.42"),
Width: 19.60",
Depth: 32.23"
Display
Dual 17.3" Full HD 1920 x 1080, 16:9 Display
Dual 19" SXGA 1280 x 1024
Dual 17.3" Full HD 1920 x 1080
Dual 23" Full HD 1920 x 1080
Ports
2x USB 2.0 inputs on front + 2x USB 2.0 inputs on rear
Analog VGA, DVI-D, Display Port
Internal USB 2.0 hub + 2x USB 2.0 inputs on front + 1x USB 2.0 inputs on rear,
Analog VGA, DVI-D, Displayport for each display
2x USB pass through inputs on front + 1x USB inputs on rear,
Analog VGA, DVI-D, HD-SDI, S Video-in for each display
Internal USB 2.0 hub + 2x USB 2.0 inputs on front + 1x USB 2.0 inputs on rear, Analog VGA, DVI-D, HDMI Display Port
Weight
~42 lbs
~45 lbs
~42 lbs
~60 lbs
Viewing Angle
Displays tilt ~15° from vertical
Displays tilt ~15° from vertical
Displays tilt ~15° from vertical
Displays tilt ~10° from vertical