MegaPAC L1
---
23.8" UHD Display integrated into a high performance rugged portable. Designed for video editing, media and broadcast applications with 7x full-length expansion slots.
Large 23.8" Display
The MegaPAC comes with a 23.8" 16:9 LED backlite LCD at full HD resolution of 1920 x 1080 or higher. The integrated visor-shade and high contrast ratio optimizes viewing in ambient light. Overall, the large, wideview LCD with low latency, high contrast ratio, and visor-shade allow the user to see details that would have otherwise been overlooked.
Versatile Platform
In addition to its large display, every unit comes with cooling fans and easy access to its 7 full-length expansion slots for immediate system upgrade or maintenance.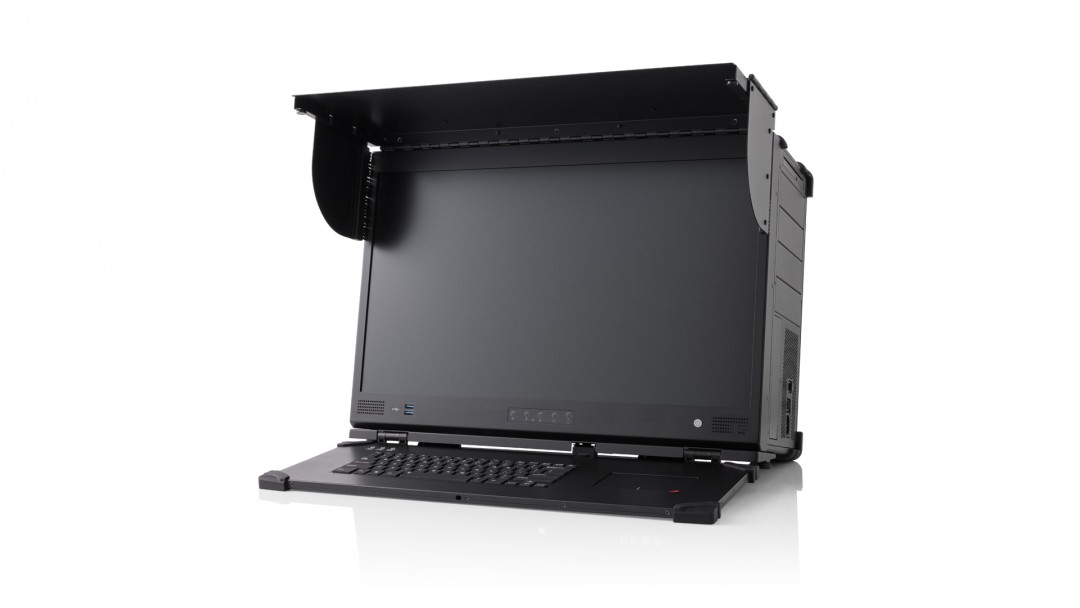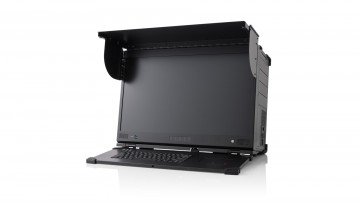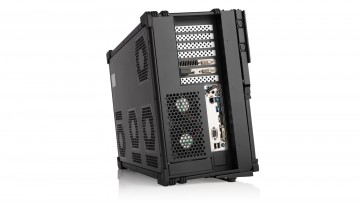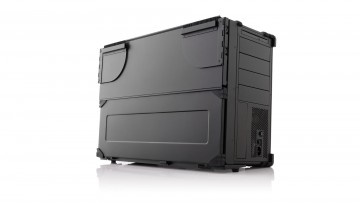 Large Display Rugged Portable
The MegaPAC L1 product is a robust portable computer built using all aluminum sheet metal to provide tough, go-anywhere unit suitable for tough environments and mobile applications. With the 23", HD LCD display (optional upgrade: 23.8" 4K Display) and 7-expansion slots design, the MegaPAC L1 can easily fulfill requirement for digital media related applications in the broadcasting market. The MegaPAC L1 can also be configured with many special add-on cards for your unique applications. The integrated visor-shade optimizes viewing when ambient light or sunlight has become distracting. Optional touch screen allows MegaPAC L1 to operate without keyboard for quicker operations.
Every unit comes equipped with cooling fans and easy access to its expansion slots for immediate system upgrade or maintenance. With its functional design and rugged construction, the MegaPAC L1 is the most durable and versatile portable platform for your applications.
Technische Daten
Produkte
MegaPAC L1
Display
23.8" UHD 3840x2160 - 350 nits (Optional: 800 nits),
23.8" Full HD 1920x1080 - 250 nits (Optional: 1000 nits),
24" WUXGA 1920x1200 - 250 nits (Optional: 1000 nits)
CPU
Latest Single/Dual Intel® Xeon, Intel® Core, or AMD Ryzen™ 7
Memory
Up to 1TB DDR4 RAM
Graphics Card
Integrated HD graphic controller
or application-specific graphic controller
Expansion Slots
Up to 7
Storage
Up to 150TB (Removable Option Available)
Power Supply
850W 100/240VAC, 50/60Hz auto-switching 80 PLUS GOLD rated power supply
Dimensions
Height: 15.12",
Width: 23.11",
Depth: 9.02",
Weight
~40 lbs
Touch Option
Touchscreen Optional
WiFi / Bluetooth
WiFi and Bluetooth Optional
RAID
RAID 0/1/5/10
Keyboard & Mouse
105-key Keyboard With Integrated Touchpad. Available in a variety of languages.
Transit Case
Includes Padded Rolling Transit Case
Optional :Hardened Case Available
Quality
ISO 9001
Regulation
CE, FCC, RoHS, CCC
Warranty
1 Year Parts And Labor
Konfigurationsoptionen
Die technischen Spezifikationen sind nur ein Beispiel. Diese können speziell auf ihre Anforderungen angepasst werden. Wenn sie Fragen haben, können sie gerne unsere Verkaufsabteilung kontaktieren.
Contact Sales
Vergleichen Sie ähnliche Systeme
Auf den ersten Blick, kann es schwierig sein, die Unterschiede zwischen unseren Systemen zu erkennen. Klicken sie einfach auf diese Schaltfläche, um die Unterschiede zwischen anderen ähnlichen Systemen zu sehen.
View Comparable Systems
Produkte
MegaPAC L1
DuraPAC
FlexPAC
Display
23.8" UHD 3840x2160 - 350 nits (Optional: 800 nits),
23.8" Full HD 1920x1080 - 250 nits (Optional: 1000 nits),
24" WUXGA 1920x1200 - 250 nits (Optional: 1000 nits)
17.3" Full HD 1920x1080 - 1000 nits
17.3" Full HD 1920 x 1080
CPU
Latest Single/Dual Intel® Xeon, Intel® Core, or AMD Ryzen™ 7
Latest Intel® Xeon, Intel® Core, or AMD Ryzen™ 7
Latest Single/Dual Intel® Xeon, Intel® Core, or AMD Ryzen™ 7
Memory
Up to 1TB DDR4 RAM
Up to 768GB DDR4 RAM
Up to 1TB DDR4 RAM
Graphics Card
Integrated HD graphic controller
or application-specific graphic controller
Integrated HD graphic controller
or application-specific graphic controller
Integrated HD graphic controller
or application-specific graphic controller
Expansion Slots
Up to 7
Up to 4
Up to 7
Storage
Up to 150TB (Removable Option Available)
Up to 36TB (Removable Option Available)
Up to 48TB (Removable Option Available)
Power Supply
850W 100/240VAC, 50/60Hz auto-switching 80 PLUS GOLD rated power supply
680W 100/240VAC, 50/60Hz Auto-Switching 80 Plus Gold Rated Power Supply
680W 100/240VAC, 50/60Hz Auto-Switching 80 Plus Gold Rated Power Supply
Dimensions
Height: 15.12",
Width: 23.11",
Depth: 9.02",
Height: 13.62"
Width: 16.50"
Depth: 7.25"
Height: 17.06"
Width: 13.67"
Depth: 9.02"
Weight
~40 lbs
~23 lbs
~30 lbs