RMS 200
---
The RMS 200 is a 2U rackmount server with military connectors, ideal for practicing and simulating real-life military experiences.
Compact and Powerful
The RMS 200 was designed and developed to pack maximum power in a compact form factor. In only a 2U chassis, this unit can fit in almost any rack space while still offering incredibly high computing power.
Rugged Construction
While compact and powerful, the RMS 200 is also extremely rugged. With waterproof connectors, it is built to meet MIL-STD-810G requirements.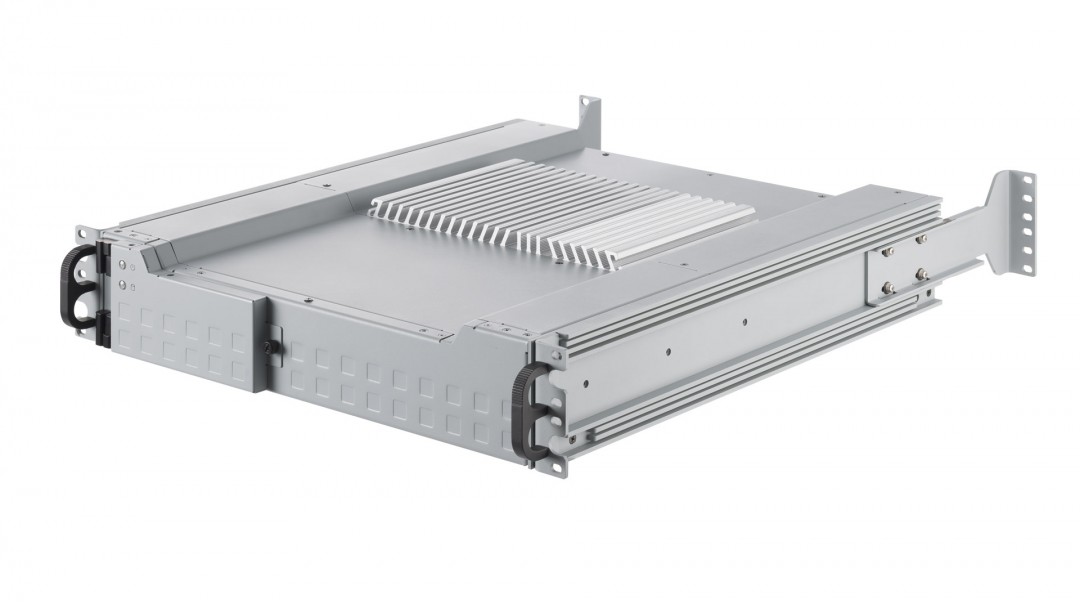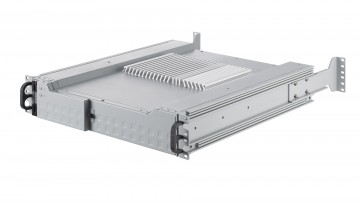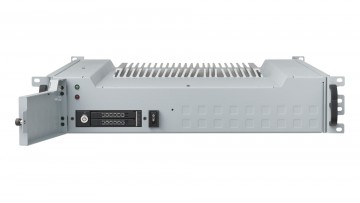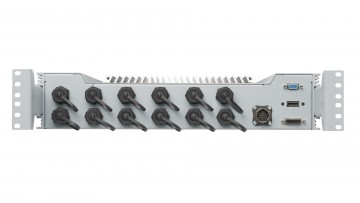 2U Rackmount Server With Military Connectors
The RMS 200 is the perfect platform for practicing and simulating real-life military experiences. The gunner can undergo combat situations to better prepare for the future.
It is a MIL-STD portable server designed for data acquisition, simulation, and training. The RMS 200 is integrated with fully sealed Mil-Spec connectors and heavy-duty filters for the harshest of environments. Dual AC and DC power supply with redundant fail-over allows uninterrupted operations both in vehicles and in command tents. It has also been designed to operate in wide temperature ranges, extending its compatibility to more military applications.
Technische Daten
Produkte
RMS 200
CPU
Intel i7-3610QE
Memory
Wide Temperature RAM - 8 GB DDR3, up to 16 GB
Graphics Card
On-board graphics Intel HD 4000 supported with VGA, DVI-D ports up to 1920x1080
Storage
Wide Temperature 1x 2TB SSD, SATAIII 6Gb/s, with 2x 2.5" HDD removable tray
Ports
Waterproof connectors for 6x USB 2.0 ports,
6x Giga Lan ports (not HUB),
1x COM port,
2x AUDIO out
Power Supply
150W AC input 110-220V or +10~36VDC input on request
Power input connector with MIL-DTL-26482 type
Optical Drive
1x DVD RW
Dimensions
Mechanism meets EIA/ECA-310 - 19" Rackmount 2U,
Depth: 500mm
Weight
13,2 kg / 29.1 lbs
Cabinet Mounting
With fixed rear extend holder up to 600mm (Std.),
With Jonathan rails up to 600mm (Options.)
Temperature
(Operating) MIL-STD-810G, Method 501.5, Procedure II (0 ~ +60C),
(Storage) MIL-STD-810G, Method 501.5, Procedure I (-20 ~+80C)
Vibration
MIL-STD-810G, Method 514.6, Procedure I, Random General vibration, Functional
Shock
MIL-STD-810G, Method 516.6, Procedure I, Saw tooth wave, 20G/11ms, Functional
Regulation
CE, FCC, RoHS
Konfigurationsoptionen
Die technischen Spezifikationen sind nur ein Beispiel. Diese können speziell auf ihre Anforderungen angepasst werden. Wenn sie Fragen haben, können sie gerne unsere Verkaufsabteilung kontaktieren.
Contact Sales
Vergleichen Sie ähnliche Systeme
Auf den ersten Blick, kann es schwierig sein, die Unterschiede zwischen unseren Systemen zu erkennen. Klicken sie einfach auf diese Schaltfläche, um die Unterschiede zwischen anderen ähnlichen Systemen zu sehen.
View Comparable Systems
Produkte
RMS 200
RMS 100
RMS 400
CPU
Intel i7-3610QE
2x Intel Xeon E5-2640 V3, 2.6GHz, 20M cache, QPI up to 8 GT/s
2x Intel Xeon E5-2640 V, 2.6GHz, 20M cache, QPI up to 8 GT/s
Memory
Wide Temperature RAM - 8 GB DDR3, up to 16 GB
64GB DDR4, 2133MHZ, and up to 128GB
64GB DDR4, 2133MHZ, and up to 128 GB
Storage
Wide Temperature 1x 2TB SSD, SATAIII 6Gb/s, with 2x 2.5" HDD removable tray
2x 1TB SSD, SATA III 6Gb/s,
8x 2.5" HDD removable trays
2x 1TB SSD SATA III 6Gb/s with 2x 2.5" HDD removable trays,
8x 4TB HDD SATA III 6Gb/s up to 32TB with 8x 3.5" HDD removable trays for RAID 5
Ports
Waterproof connectors for 6x USB 2.0 ports,
6x Giga Lan ports (not HUB),
1x COM port,
2x AUDIO out
3x USB 2.0 ports,
2x USB 3.0 ports,
1x COM port,
2x Giga Lan ports,
2x AUDIO out
4x USB 2.0 ports (2x on the front),
2x USB 3.0 ports,
1x COM port,
2x Giga Lan ports,
2x AUDIO out
Dimensions
Mechanism meets EIA/ECA-310 - 19" Rackmount 2U,
Depth: 500mm
Mechanism meets EIA/ECA-310 - 19" Rackmount 2U,
Depth: 500mm
Mechanism meets EIA/ECA-310 - 19" Rackmount 2U,
Depth: 500mm
Weight
13,2 kg / 29.1 lbs
17.1 kg / 37.7 lbs
18 kg / 39.7 lbs